It seems like everyone has gone crazy about NFTs lately – in a positive sense. See it yourself, brands like TicketMaster, Mercedes, Disney, NBA, and others release their NFT collections. Needless to say, tokens from such big names are sold like hotcakes.
But a big name is not an ultimate guarantee that a sale will be a success. Surprised? Don't be, as dozens of NFT drops fail. And the good news is that you may have hot NFT sales even without a renowned brand. Now, are you excited? No wonder, and today, we are going to tell you how to reap profits with a single NFT or even an NFT collection. By following our tips, you will be capable of attracting the attention of thousands to your NFT drop.
7 Steps to the Success of your NFT Sale
Tell a Captivating Story
You already have assets you want to turn into NFTs. No matter what those assets are, the right question you should ask yourself before publishing them on an NFT marketplace is: why should people buy your NFTs?
And here comes an entire series of linked, clarifying questions: How are your NFTs different from others? Are they truly significant and why? What value will the customer have with them? What makes them exclusive?
By answering these questions, you will have a compelling story about your NFT. Answer them before publishing your asset(s) as NFT – this way, you will get the public excited about your asset. The first impression is important, right?
All successful NFT projects you've heard about put an interesting story above anything else. For example, Bored Ape Yacht Club (BAYC), is more than just a collection of apes (though it may seem otherwise). There is a compelling narrative behind the project, where future NFT billionaires, or early crypto investors to date, meet at a yacht club with apes that share the same vision. But to enjoy the world depicted by BAYC, you need to buy their ape pictures that exist as NFTs.
BAYC' s story and vision cause a genuine interest in the project. And the interest grows since authors continue to commit to their vision and community. Ideally, this is an example you should follow before creating the NFT: work out a communication strategy, make up a story you'd like to tell with your NFT(s), and communicate your project's value to the audience early on.
Choose a Blockchain and Marketplace (or Create your own Platform)
Yes, most NFTs are created via Ethereum and sold on OpenSea, but that doesn't necessarily mean you should follow this path. After all, many other successful projects benefit from other blockchains, some even from their own marketplaces. Then why can't you be among them?
Having your own NFT marketplace has many benefits. First, you have better control over NFT launch, so other creators can earn more revenue while fans can save on gas fees that are high on Ethereum. Mind that besides Ethereum, there are plenty of alternatives that allow for minting NFTs, such as Cardano, Solana, Binance Smart Chain, Tezos, Flow, and others.
Each of the NFT-compatible blockchains has its strong points. Some of them offer low gas fees, while others provide interoperability with other chains. That is, before deciding on the blockchain, explore the options to make the right choice.
Write a Smart Contract
Next, to your future smart contract, a crucial medium for the value proposition of your asset.
Smart contracts are a set of rules defining how valuable your asset is. Consider the following points:
Whether your NFTs will be on-chain or off-chain
Will you take royalties from reselling your NFTs?
What is the maximum amount of assets to mint?
Whether you mint NFTs on your own or allow the public to mint them
Will there be unique features like randomness, voting rights, rarity, etc.?
Will you provide additional perks to the holders of your NFTs? Maybe access to exclusive events, content, or extra rewards?
Think over all these features beforehand because once you mint NFTs, you won't be able to change them.
Being ahead of time when defining rules for NFTs is something to learn from the VeeFriends NFT collection. Some tokens from the collection give their holders access to exclusive events while others let users meet the collection's creator himself. Finally, some tokens allow users to have several random gifts a year. These utilities were built into tokens right from the start, and by coupling those with a 10%-royalties feature, the collection's author earned $150 million just from the resale.
Are you up for the same challenge?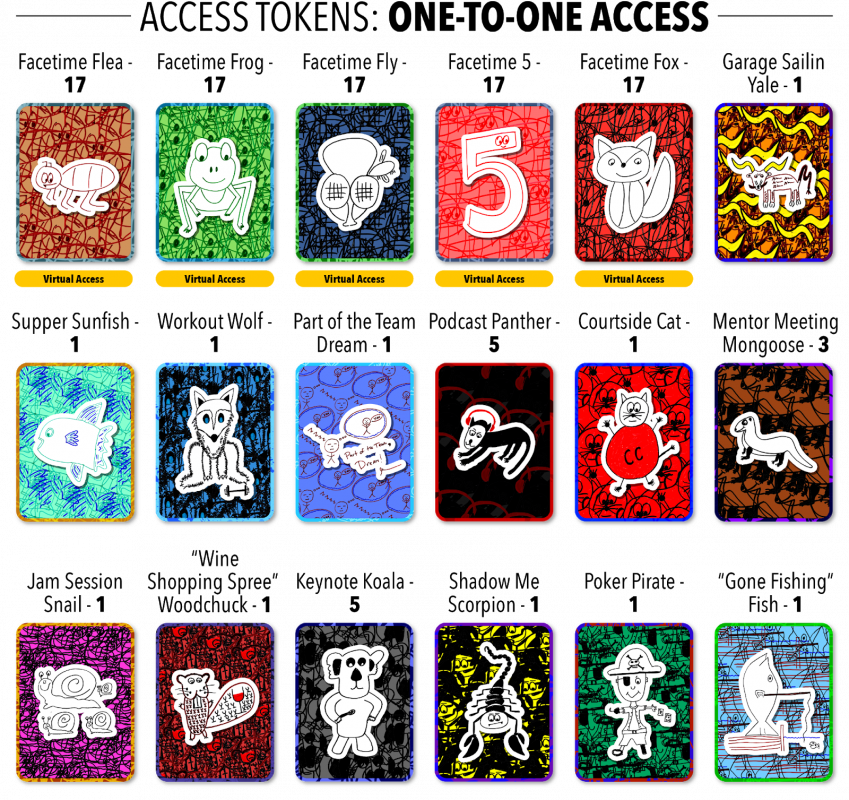 Source: VeeFriends
Build Hype Around your Project
The more excitement around your project you raise, the larger community you have by the time of the release. Also, more excitement means more value people will attribute to your project.
So, where to start? As a good starting point, set up pages on social networks, Discord and Twitter first (as those are the most popular areas among NFT communities). Also, consider channels like Telegram, Reddit, and Instagram.
Once you set up a platform to communicate with the community, reach out to influencers in the NFT space and agree on donating them NFTs for advocating your brand. Also, run regular contests with NFT drops and (or) giveaways via social media channels.
Finally, a good way to "warm up" the community's interest all the way to the release (and after it) is by sharing project updates through social media and email newsletters, promotional photos and video (don't forget that NFTs' power is visual), and conducting pre-sales.
But, perhaps, the fastest way to generate the hype around your NFT(s) is a quick sell-out. NFTs that sell out fast attract the massive attention of enthusiasts. They capture news headlines, which ultimately leads to their increased value on the secondary market.
Sell-out must take place only after you took all the previous actions that we described; mind that selling out won't be successful if you don't have an audience believing in your project. And the audience can believe in your project only if it's visible, so, again, share regular updates, and be consistent, to ensure the visibility of your project.
Establish Fair Rules for the Community
Since the NFT space is primarily community-driven, a fair NFT launch is a step toward people's trust in your project. According to Vitalik Buterin, Ethereum's co-creator, an ideal NFT stands on the following five principles (consider those as your beacons when preparing for the launch):
Fairness (itself). All users, including those with low income, should have the right to participate in NFT sales. In this way, you can build a community without high wealth concentration among particular individuals, but a more diverse token holder one.
No competition for the sake of competition. You should not put people in situations where they have to compete to take the same action, with only a few of them getting in. This will only create auctions you don't need, as they may only discourage the masses from your project.
Don't require them to be "market-savvy." Your audience must not comprise market scholars only, instead, strive for its wider availability. The same principle should apply even if the seller doesn't know about the demand.
Simple and entertaining process. Consider adding elements of gamification to your sales to make participation joyful for users. But don't deliver frustrating experiences by overcomplicating the process with game-like mechanics. Balance is the key.
Meet user expectations. Deliver expected experiences; when you put an NFT on sale, buyers will expect its price to go up first, then go down. However, this means selling at below-market prices.
Rephrasing Vitalik, these principles are the "building blocks" of making the NFT launch fair and simple to as many people as possible. Follow them and you will build a diverse community of people who believe in your project.
Implement KYC
Although KYC practices aren't present in the NFT space, the market is growing fast, and so do concerns about money laundering and other illicit practices. Therefore, KYC regulations of NFT trades are just a question of time.
Now, let's see what perks can NFT compliance give to NFT projects, especially large ones:
Fair releases. Sales can limit purchase volumes to only verified buyers.
Exclusive drops. Creators can conduct contests among target audience groups, such as NFT holders, loyal fans, presale participants, and others.
No server overload. With access granted to verified users only, there are fewer website crashes.
Create Long-lasting Value
Referencing point 4 where we talked about initial hype, we'd like to conclude with a few cases on how to maintain it after the release. Again, we can learn from the best.
VeeFriends, for example, launched a Pre-Launch Program where upcoming projects could donate their NFTs to VeeFriends' token holders. With each new campaign, holders can get free NFTs.
On the other hand, Bored Ape Yacht Club conducts giveaways with free dog NFTs and new versions of existing NFTs among Apeholders. The latter alone brought Apeholders millions of dollars.
Damn what #BAKC I mannaged to scoop!!! Gotta love this badass doggo. pic.twitter.com/Etc9PsEmzS

— Maximilian Peev (@MaximilianPeev) April 21, 2022
One could hardly doubt the major benefit of these programs: creators provide more value for NFT fans and other enthusiasts. Others see that value and get excited about the project. As more people get involved, NFTs grow in their value. Eventually, when people see that particular NFTs bring real value to their original holders, they willingly take part in the following campaigns.
Your Checklist to Get Started
Ready for launch? Well, make sure you answered the following questions:
How is my NFT collection different from other collections?
Where will I mint and trade my NFTs
What will my smart contacts offer?
How will I build hype around my NFT?
Will I establish fair trading rules for all users? How?
What regulatory measures will I implement?
How will I keep people excited about my NFT collection?
The same questions work if you have a single NFT item to sell (except, perhaps, for the last question). With all the described steps made, no doubt, your NFT sale will culminate with a success.