Finding a reliable Offshore Development Center is a delicate process, where much is at stake: choosing a provider in the wrong location threatens your operational efficiency, end project, and reputation. To help you prevent such an adverse outcome, we are coming up with the research, overviewing world-first locations with strong offshore development expertise.
Per the research, we picked two regions that broadly attract offshore developers: Eastern Europe and Asia
By studying the specifics, opportunities, and challenges of each market, you can make a meaningful decision on where to hire a dedicated offshore development team.
Top-choice Regions for Offshore Development
Eastern Europe
Each year, Eastern Europe attracts thousands of offshore developers. Beneficial geographical position and the booming IT sector with skilled tech labor play their role in this decision. To date, countries like Belarus, Ukraine, Poland, and Romania spearhead the software development trend, with an average number of qualified IT software professionals ranging between 50 and 300 thousand.
Belarus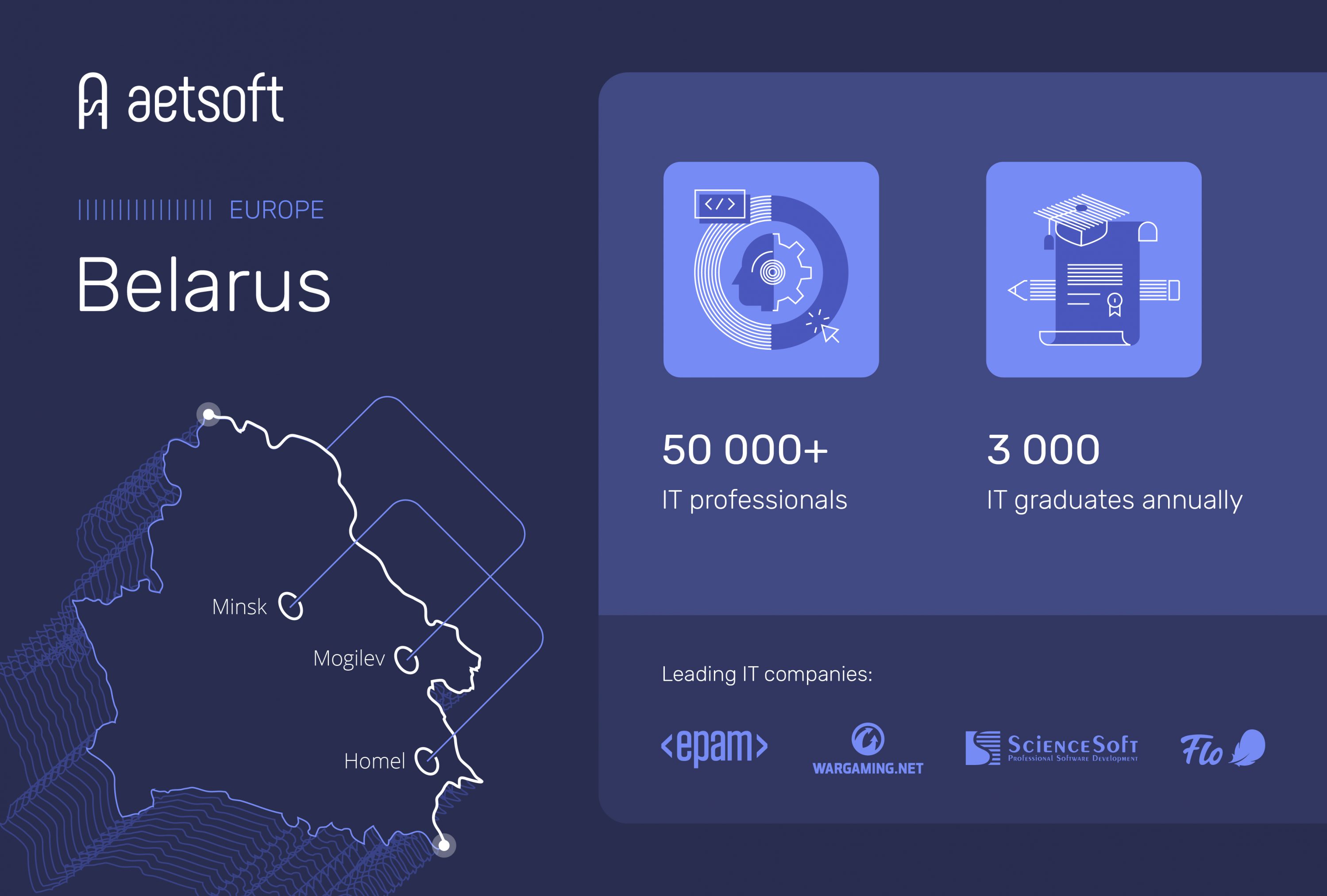 Belarus is located in the center of Europe, or a few-hour flight from practically any city in Western Europe. Over 50,000 of qualified software developers (most of which have a good command of English, live and work there, across more than 1600 IT companies, including R&D and Head offices of many Fortune 500 companies and successful startups like Microsoft, Fitbit, Flo, Viber, Lyft, Mapbox, and others.
The national education promotes the further expansion of the talent pool of around 4,000 new employees per year, with applied disciplines on physics, science, mathematics, and others in over 50 of higher educational institutions.
The Belarusian government provides sustainable legislative and operational support to all software companies-members of the Belarussian Hi-Tech Park. Government assistance also helps to reduce operational costs for these enterprises, resulting in 60-70% savings on office maintenance, staff training, ownership, and other expenses.
A few years ago, Belarus took a notable place in Software 500, the ranking of the world's largest software providers.
Ukraine
As a fast-growing IT cluster, Ukraine is characterized by a strong tech education and versatile talent pool operating in fintech, healthcare, telecom, eCommerce, gamedev, and other domains. As Belarus, the country also hosts the offices of such companies as Microsoft, Wargaming, IBM, and others, and for that, it was included in the global outsourcing list of the International Association of Outsourcing Professionals in 2018.
Poland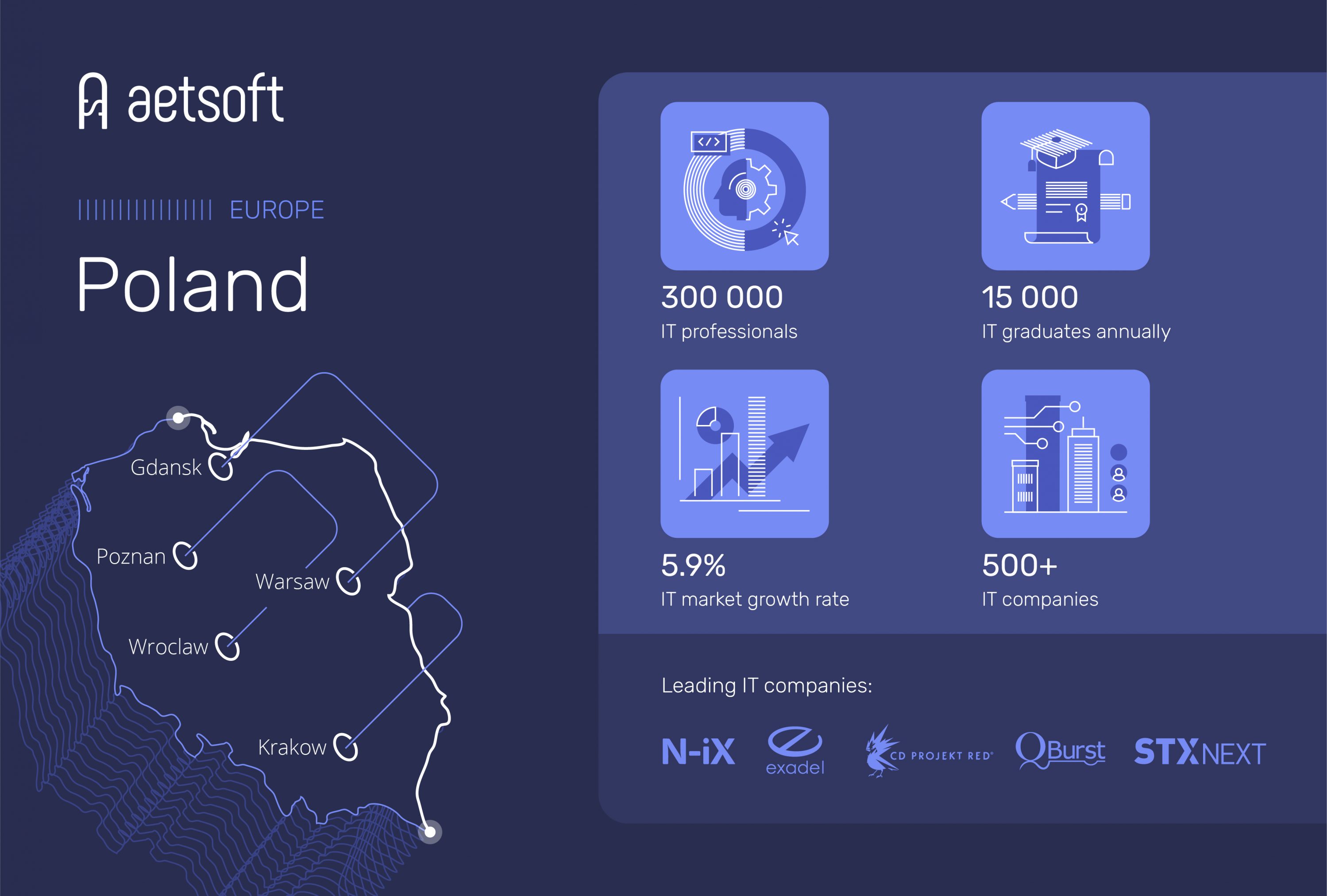 In Poland, the economy continues demonstrating confident growth, which favors the sustainable development of various clusters, and IT is not the exception. The working population in the sector approaches the 300,000 mark, with the average employees aged between 30 and 40.
One can hardly overestimate the role of private investment in Polish IT, the R&D domain in particular, which attracts global players to the region. Thus, companies like Google, Motorola, Intel, McKinsey, and others set up their R&D centers in Poland.
In 2016, Large Poland's cities Krakow and Warsaw were recognized by Tholons among the major IT centers for offshore development.
Czech Republic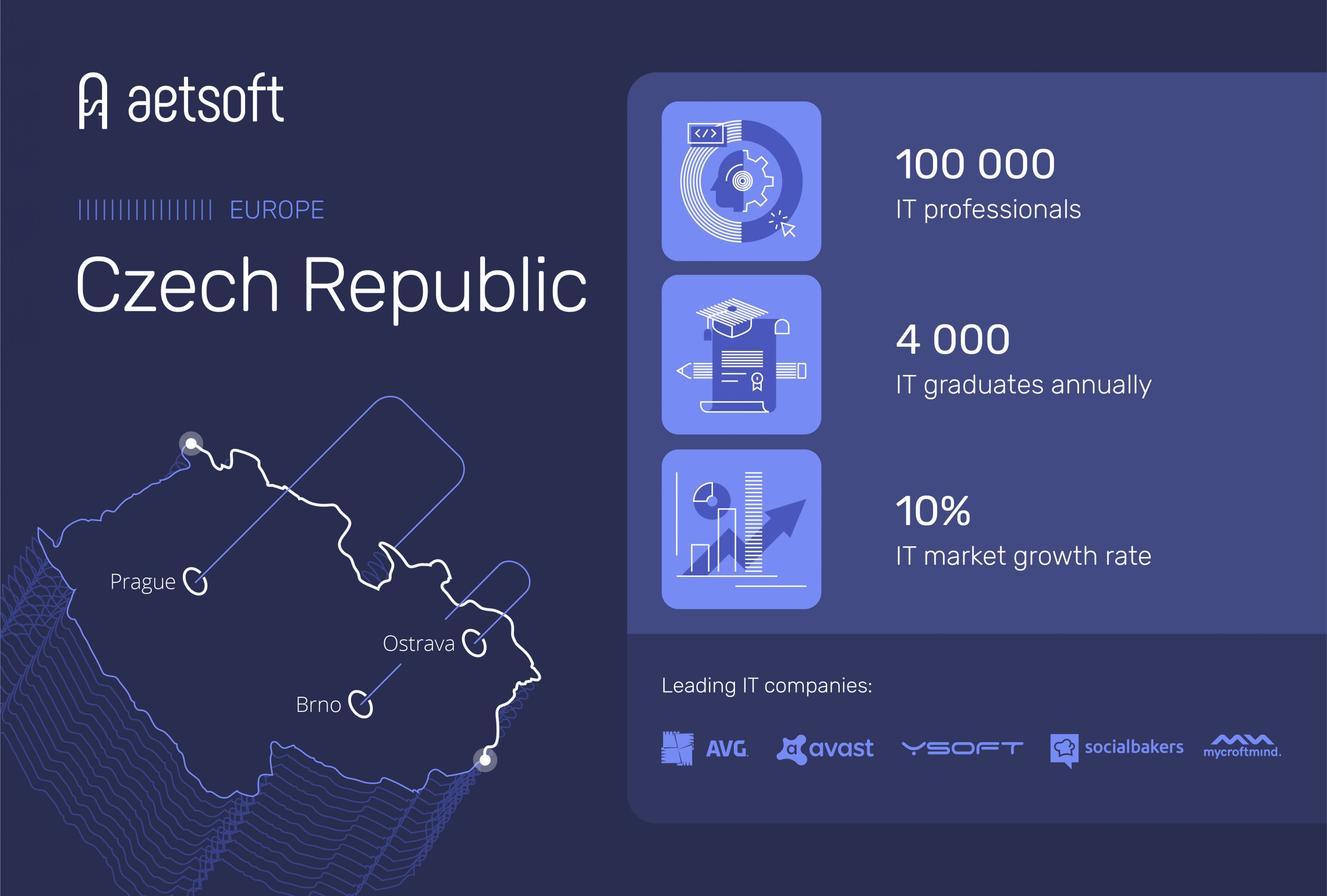 In the Czech Republic, IT booms and thrives, with over 100,000 employees to date, working in the telecom, fintech, and other verticals. On average, IT outsourcing there increases by 10% annually, fueled by high-value projects outsourced by companies in foreign countries.
Besides world-leading companies that set up their offices in the Czech Republic, several renowned enterprises, like Avast or Socialbakers, take their roots there.
Romania
To date, the Romanian IT industry counts over 120,000 specialists and grows by 15% every year. Undoubtedly, Romania's inclusion in the EU in 2007 precipitated its prosperity in the sector, with companies like HP, Gameloft, Huawei, and others operating there. One should note that Microsoft runs two offices at once, în Bucharest and Timișoara, respectively, while Oracle has 3,000+ Romanian IT specialists in its stuff.
The government actively supports the development of Romania's IT industry, with the significantly lowered income tax for IT specialists and by introducing multiple incentives for local companies.
Lithuania
Lithuania remains a relatively small IT cluster, yet with promising perspective and noticeable dynamics. For now, around 30,000 IT specialists work there, and roughly 800 new ones graduate each year. Even though the region itself is tiny, many companies choose it to hire skilled offshore developers.
Nasdaq, Google, AIG, and several other Fortune 500 companies established their regional centers in Lithuania, and emerging front-runners like Uber, Wix, Unity, and others opened their R&D centers there.
Asia
Asia remains one of the dominating offshore development markets, offering a skilled workforce at a low cost. Countries like India, China, the Philippines, Singapore, and several others lead in the categories of financial attractiveness, expertise, and business environment.
India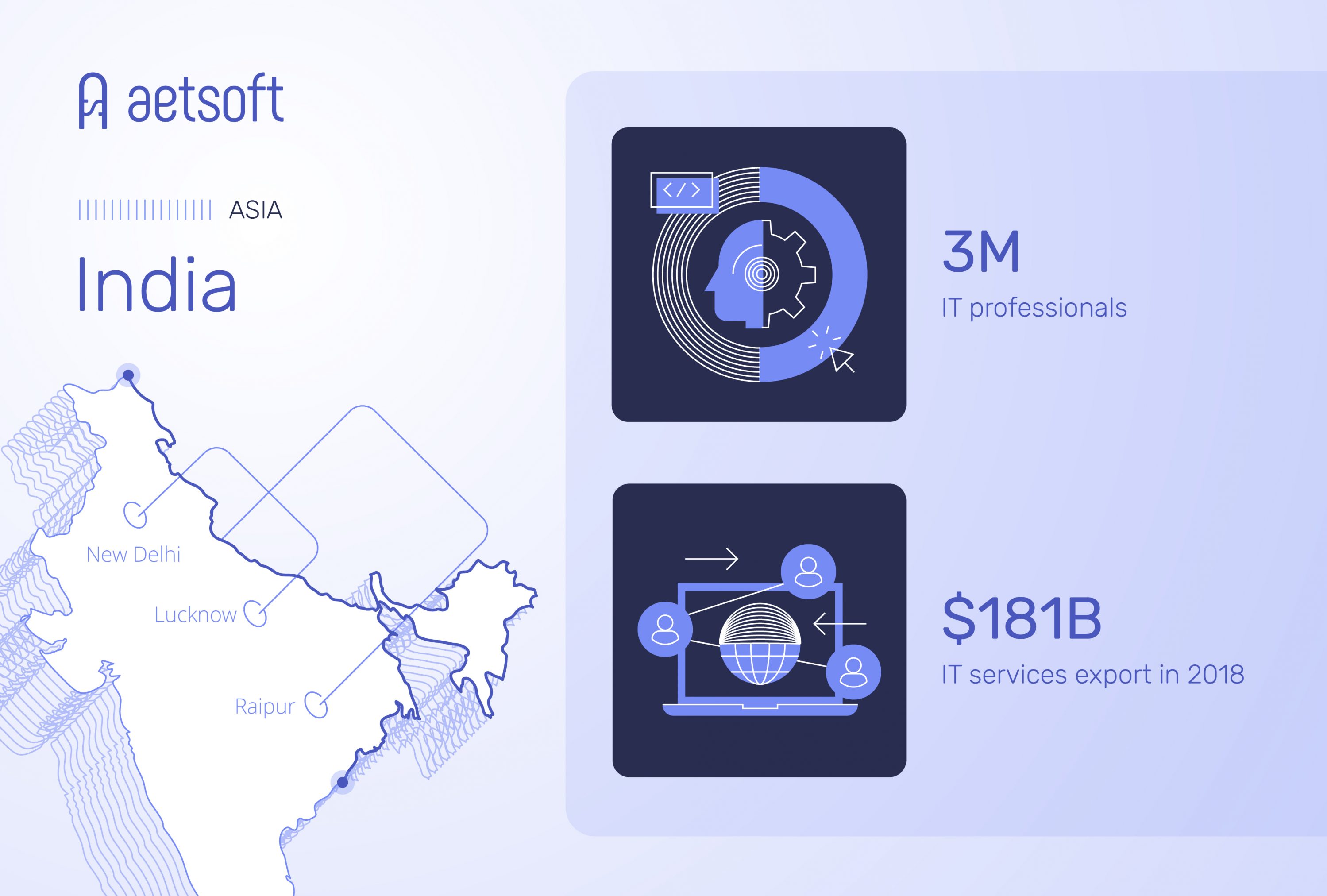 Due to the absolute prevalence of English-speaking IT specialists, India leads the IT industry in the Asian region. Nasscom reports that now, the country has around 3 million specialists, and grew by over 230,000 new ones in the last several years.
Around 200 international corporations operate in India, and 500 of them provide outsourcing services to clients from nearly 70 countries. In 2018, the country's market generated $181 billion in revenue, which became the highest figure ever.
Despite the richness in India's IT resources, its overall service quality and niche expertise desire to be better. Alas, the region still lags behind these countries from the consulting perspective.
China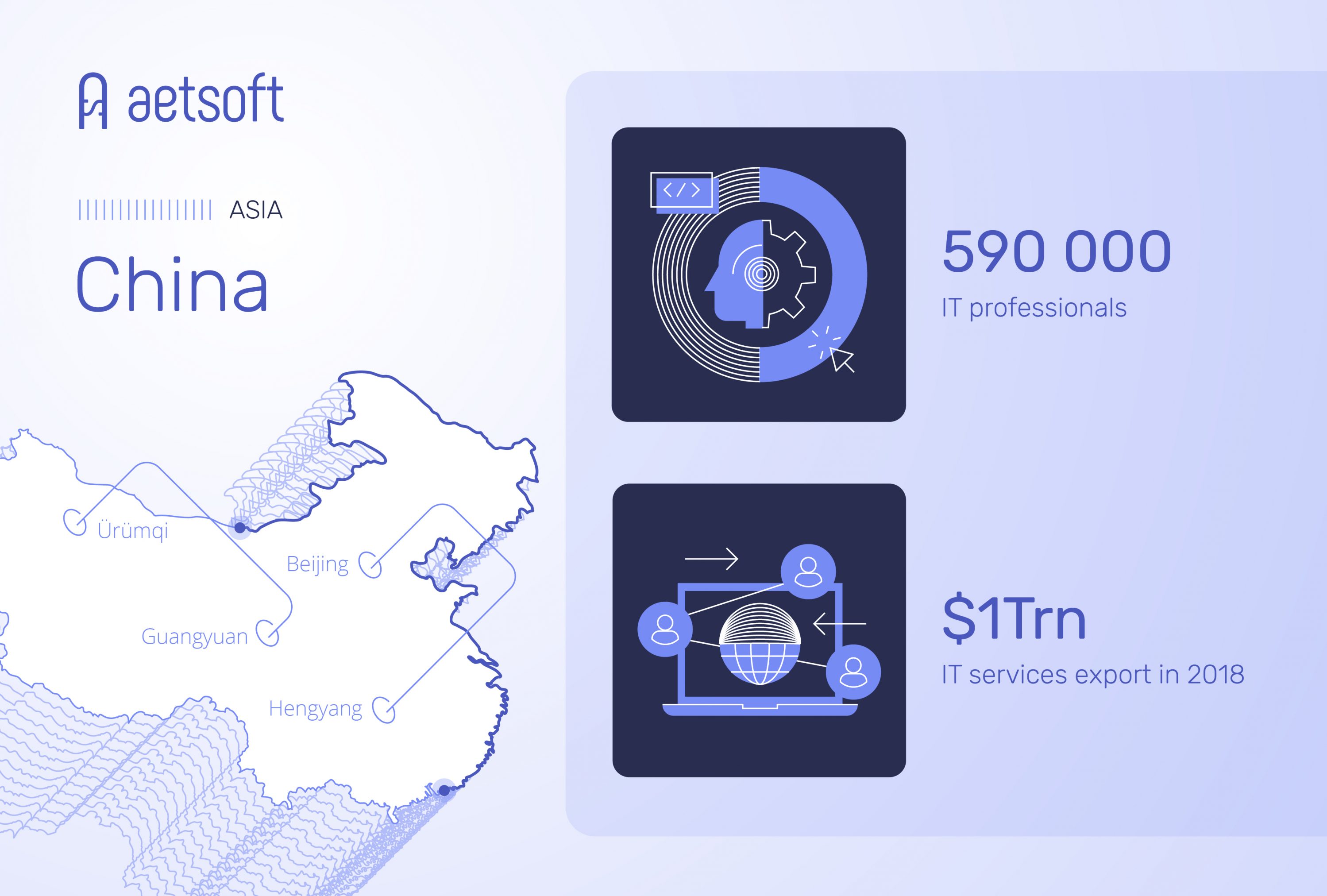 China puts all reasonable effort to catch up with India as the leading IT offshore development country in Asia. Several years ago, China's talent pool counted 590,000 software developers, and now, the Chinese IT industry generates approximately 1 trillion of annual revenue.
The Chinese government actively supports and stimulates the development of the IT sector there, with exclusive policies that favor IT companies. However, cybersecurity threats persist in China, and they are even more perceivable than in other Asian countries, so many companies hesitate to open offices there.
The Philippines
A specialized Philippines Software Industry Association (PSIA) reports that around 200,000 developers are employed in the Philippines' IT, with an anticipated 10% increase by 2022. As of 2018, the industry's profit volume was worth over $3bn and was expected to make a dramatic jump of $5 this year.
IT labor in the Philippines is dominated by young specialists, most of whom have a good command of English. Companies like Visa, Accenture, and others already have delivery centers there, and the World Bank forecasts that the region's revenue from offshore development can grow beyond $50bn, which, in turn, will give rise to the job market (an anticipated 2.6 million of new jobs).
Singapore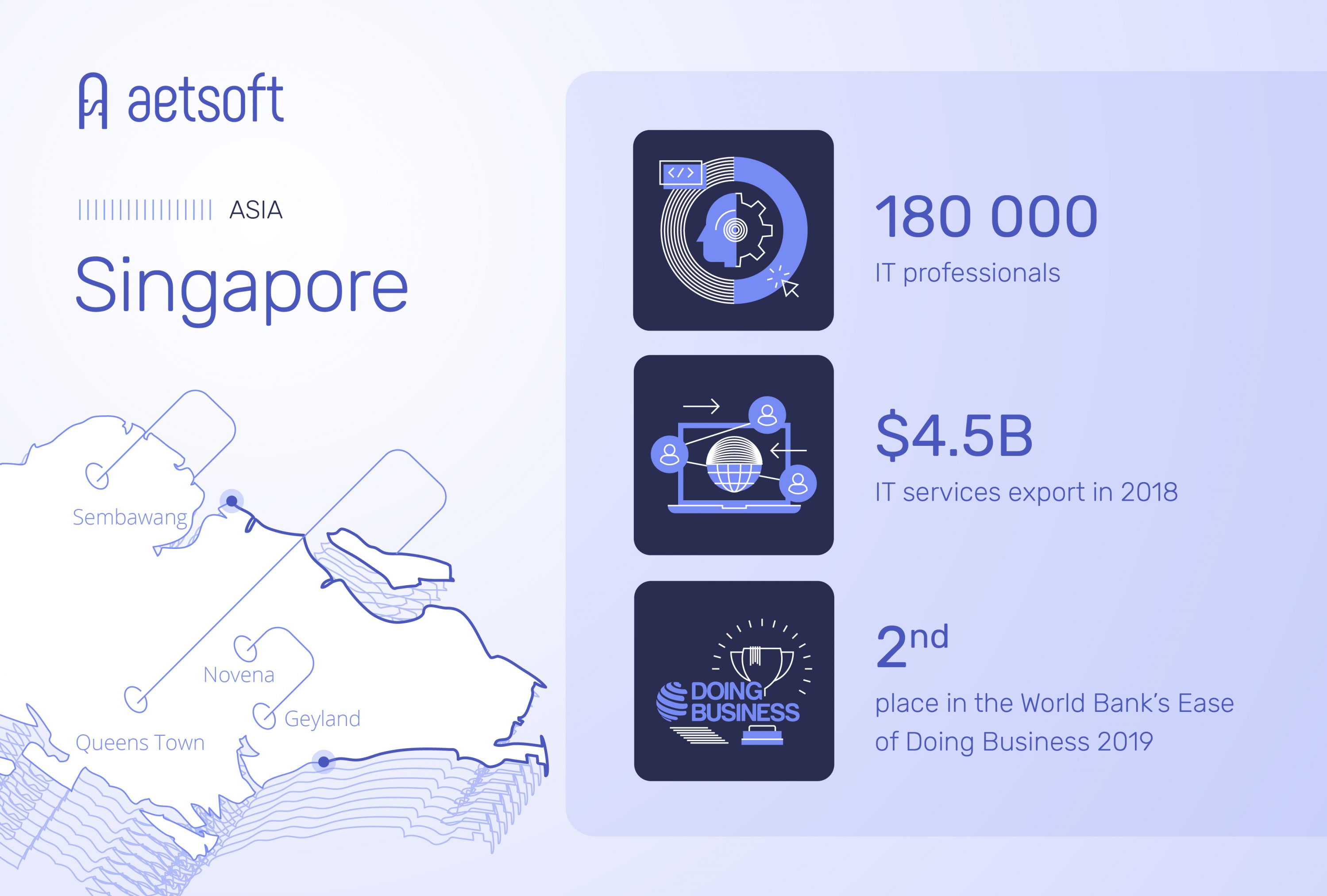 Singapore is a thriving IT cluster, where an emphasis is put towards the development of IT consulting, offshore development, and robotic process automation. Several years ago, its market size was estimated at $4,5bn of shares and around 180,000 of software developers. From the financial viewpoint, the Word Bank's Ease of Doing Business report gave Singapore the 2nd place in its ranking in 2019.
Singapore is the home to many multinational companies, like HP, IBM, Citibank, and others. More to it, favorable financial initiatives attract an influx of overseas financing. However, the talent pool there is relatively small, which causes the need for hiring offshore developers from other countries for local companies.
Malaysia
Malaysia has strong offshore development expertise in gamedev and animation, and the government actively supports the further growth of IT companies. The four-year Malaysia Plan (2016-2020), for instance, aimed to increase the share of informational technologies in GDP to 17%. Indeed, the role and contribution of Malaysia's IT into the local and global economy impresses. Despite that, Malaysia faces the shortage of skilled labor amidst the increase in jobs.
To Sum Up
Here, the conclusion is broken down by region so you can draw your own conclusions about where to hire an Offshore Development Center.

Finding a reliable Offshore Development Center is a challenge, especially if you don't have previous experience doing that. Contact Aetsoft, and we will prove you with the up-and-running Offshore Development Center based in Minsk, Belarus.