It's been years since blockchain's establishment. Though many doubted its application viability, many industries have already adopted the technology. Automotive is not the exception; global car producers, like BMW, Volvo, Renault, Toyota, Mercedes-Benz, and others, were among the first to launch their blockchain initiatives. Primarily, those are aimed at profitability boosting through automated processes and cutting expenses associated with vehicle production, distribution, and maintenance.
Unlike most of the traditional SAP systems used throughout the automotive industry, blockchain helps solve long-time pain points in machinery manufacturing: transparency of supply chain processes, non-stop synchronization of input and output information, and traceability of car and car parts' authenticity.
Now, let's find out in more detail what solutions blockchain brings to automotive.
Unlocking Blockchain's Potential for Automotive
Car Manufacturing
A typical vehicle production supply chain includes car parts search, delivery, and distribution. Sometimes, they can be lost during delivery, damaged, or even stolen due to dispersed inventory software or human error.
Blockchain continuously records each new activity, adding it as a block to the data chain and makes it impossible to delete or change the data without verification by the system and its users. Thus, car parts are ultimately traceable through the supply chain.
Bills of lading and inspection records are, probably, the most important aspects of car production. Failure to provide any of these may result in substantial financial losses. With blockchain, each vehicle assembly becomes visible to the responsibles in a single platform, without worries about data loss.
With their increased popularity, smart, self-driving cars become a target for hackers even more often. A blockchain is developed in such a way that it is impossible for an unauthorized person to breach the system from the outside.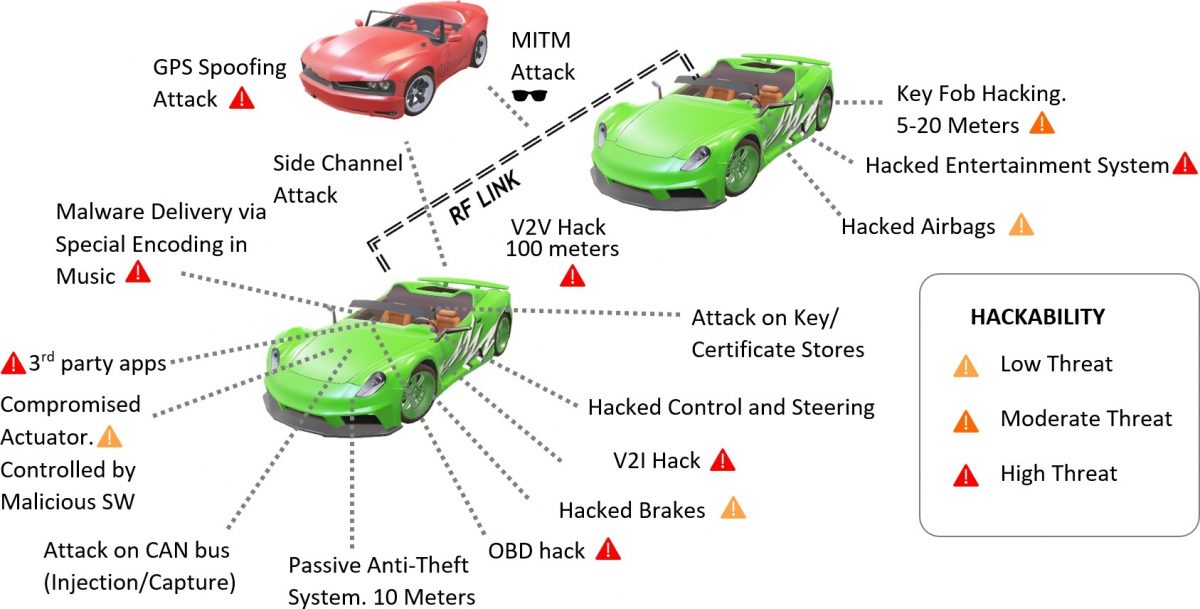 Cyber Vulnerabilities in a Vehicular Ecosystem
Source: ScienceDirect
Specifically, cryptographic encryption and constant data recording do not allow to break in the continuous data flow, meaning that the recorded data cannot be "reverse-engineered." Thus, blockchain is a perfect place to store sensitive and business-important information.
Likewise, connectivity and network operation may be threatened by intruders due to the poor security of communication tools. Again, blockchain could close this gap with an authorized-only access permission system; only verified actors would be able to add new data, and each action would be recorded visibly to the system.
Car Selling, Sharing, and Rental
An automotive producer or a car rental company could create car profiles in a blockchain application for owner history records and proof-of-insurance cases. Every driver's action, each rental session, driving habits, stops, and other information would be sent to an immutable ledger and stored there.
In the case of an incident, a car owner would get the information about that incident immediately, with no risk of data being changed by a car driver. By doing so, the company could eliminate the necessity of collecting multiple documents, but use the already recorded data for insurance issues instead.
A car seller could share information about vehicle condition, previous owners, and maintenance with car buyers who, in turn, would be eligible to trace car history back to production.
Blockchain's continuity ensures that all the information recorded in the application is accurate and trustworthy. So a buyer would get a particular car with proven specifications in the shortest time possible — unlike this short validation journey, nowadays, car buyers appeal to crowd opinion and reviews because of hesitation and lack of unbiased information about a specific car or car service experience.
Car sales transactions could be implemented on a blockchain-powered payment platform. In this case, payments are processed via blockchain's smart contracts that cannot be disrupted by a third party or changed by anyone without both the system's verification and end user's prior confirmation.
More to it, a direct payment enforced with blockchain technology removes intermediaries. Ultimately, the use of such an "all-in-one" platform might help significantly cut seller's expenses and reduce car prices for buyers, which inevitably leads to the uprise in car sales and improves the car seller's image. In the case of undue payment, a car seller could block car control remotely via an IoT device connected to the blockchain.
Car producers could tag original car parts with certain marks which could also be traced in a blockchain-based application. In this case, car maintenance or part substitution becomes transparent, taking much less time since original car accessories and manipulations are available at a click.
Simply put, a maintenance claim would be processed by a single operator who would get all information at once and forward it to parts allowance. Up until today, a traditional claim handling has been requiring cohesive actions of multiple car producer's departments and might take up to several days for authenticity verification and parts provision.
Examples of Blockchain Usage in the Automotive Industry
In 2019, BMW showcased its blockchain-powered car mileage app to help solve mileage fraud problems. The company estimated that on average, a swindler earns more than $3,000 from a car sale because of "winded-back" miles. The total annual damage was estimated to be as high as $6.78 billion. With BMW's VerifyCar app, both a car seller and a buyer get trusted information about vehicle conditions.
Renault, GM, Honda, and Ford launched their joint blockchain initiative to create a vehicle ID standard. Currently, each company uses their own software with a custom interface. The new standard allows them to use a single car identity format, which can radically change the whole automotive industry's effectiveness, simplifying car rentals and improving services performance.
Finally, Volvo leverages the benefits of blockchain's security to trace its car parts authenticity and distribution. With the capacity of 190,000 trucks produced annually, the company sees big potential in blockchain's consistency to help to systemize thousands of car parts allowance worldwide.
Aetsoft's Blockchain Expertise in Automotive and Provenance Tracking
Aetsoft has put its effort into helping the automotive companies overcome persistent challenges by developing a vehicle data tracking system.
Meet Car eService Book, a bespoke blockchain solution that tracks and collects vehicle-related data, like vehicle owner information, driving behavior, technical details, service information, and others, across vehicle producers, manufacturers, service centers, dealers, and other involved parties.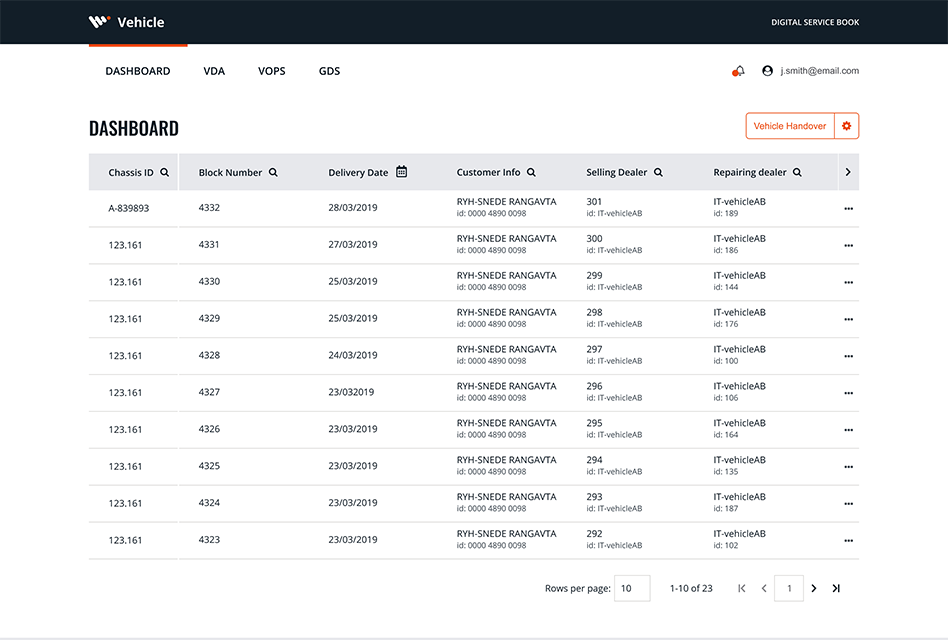 The core idea of the solution is to bring together previously fragmented, scattered data pieces into a universal immutable database designed to act as a single, cryptography-backed and verified, source of truth. The software is compliant with enterprise management systems, including ERPs and CRMs, and third-party IoT devices, guaranteeing seamless integration with these.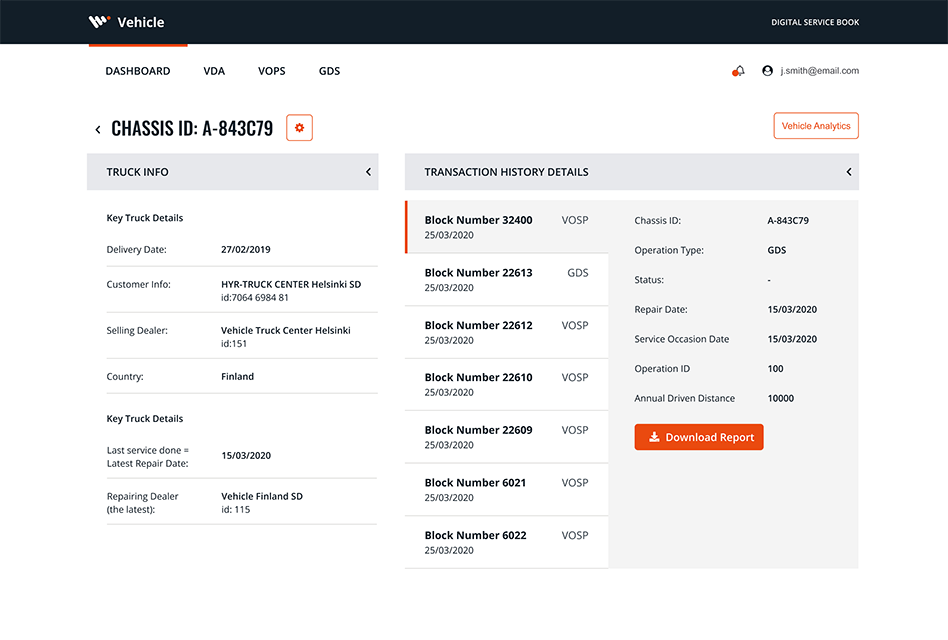 At your request, we will deliver you the same solution in due time. Yet, if you need additional customization, we will tailor it to your requirements after careful consideration of your business processes and roadmap.
Let's start with a consultation. Tell us about your future project (the privacy is guaranteed), and we will get back to you within one business day.