DAO Space: a blockchain ecosystem for investors and fundraisers
DAO Space is a blockchain platform that connects investors and fundraisers in a transparent, distributed, and cryptographically secure ecosystem for decentralized autonomous organizations. It introduces fast, theft-proof payments, automatic distribution of digital assets along with KYC and AML regulatory compliance.
Learn more
Investee: a marketplace for investment products
At the client's request, we set them up with a blockchain-based marketplace solution for investment products. There, only verified investors who pass KYC/AML procedures get access to a wide range of investment products (IPOs, real estate, ETFs, and more) to support with crypto or by purchasing their own native tokens.
REX Money Making: a monetization platform for content creators
REX Money Making introduces new monetization opportunities for content creators, providing them with a direct access to investors. Investors can choose content projects to support from curated collections and make agreements with content creators using smart contracts. Once creators accomplish pre-agreed goals, smart contacts release funds, which makes collaboration between investors and creators transparent and hence trustworthy.
SEE HOW BLOCKCHAIN SOLVES CHALLENGES
Blockchain applications in crowdfunding
Wealth creation

Fund distribution

Campaign transparency
Wealth creation
Use case 1.
Wealth creation for low-income regions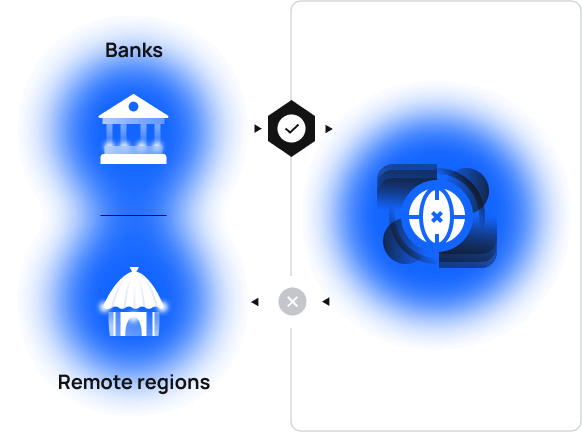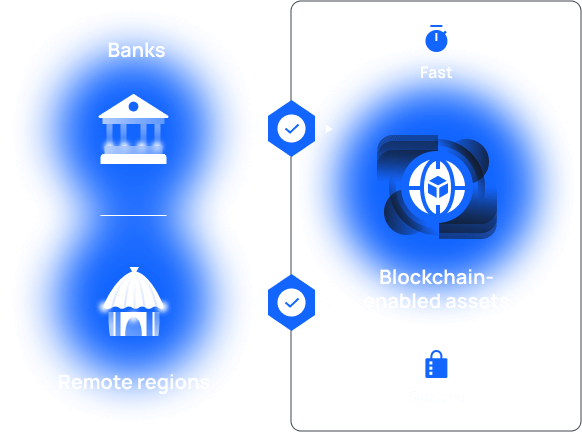 Currently
Most low-income regions, particularly those in Africa, don't have access to credit systems, and their residents don't have bank accounts. Lack of proper financing leaves them in dire straits.
With blockchain
Blockchain-enabled digital assets remove crowdfunding barriers between war-torn, impoverished areas and modern means of financing with direct, p2p money transfers (of course, internet connection is required).
Improve with Blockchain
Fund distribution
Use case 2.
More rational fund distribution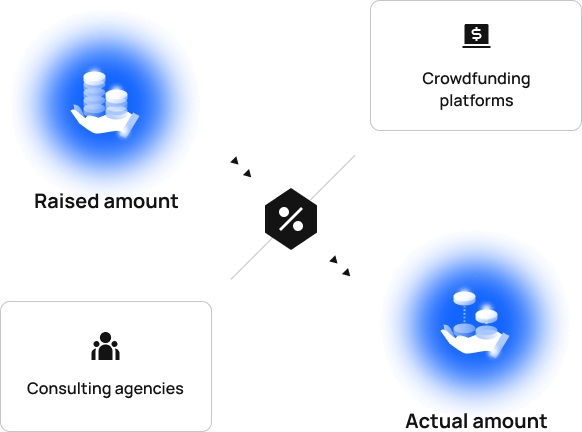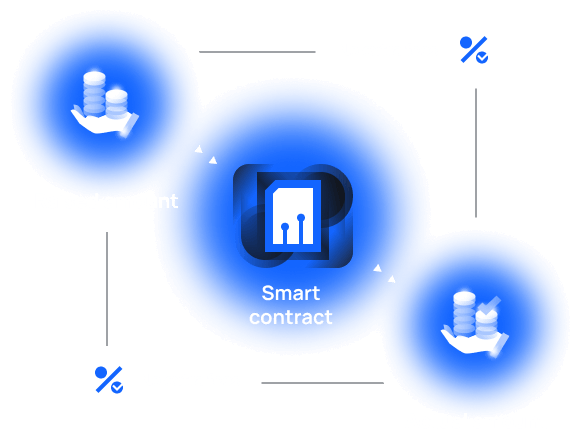 Currently
With an excessive number of crowdfunding consulting firms and platforms, each requiring fees, the ultimately raised amount is far less than the one you initially planned to collect.
With blockchain
Smart contracts exclude middlemen, making such services as recommending the appropriate crowdfunding platform and fundraising itself autonomous and less price.
Improve with Blockchain
Campaign transparency
Use case 3.
Establishing campaign transparency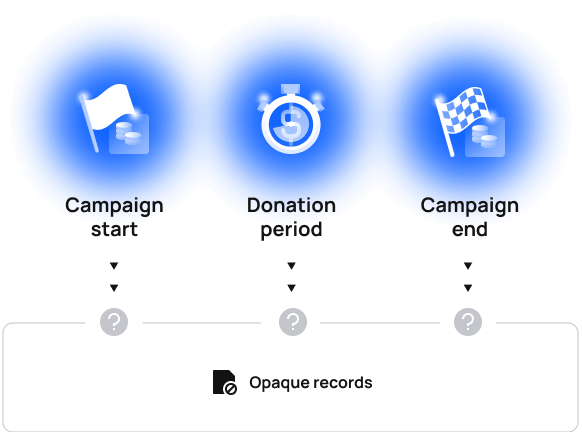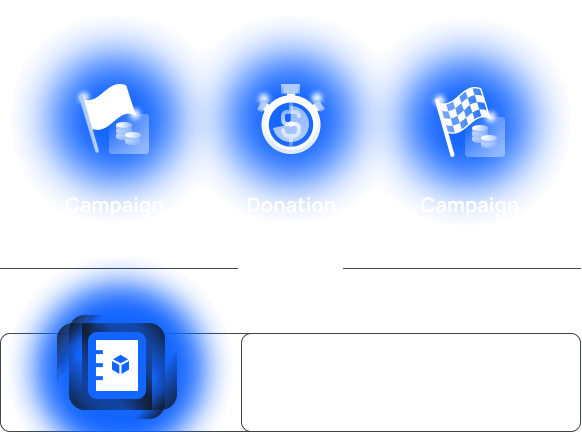 Currently
Crowdfunding campaigns remain shady procedures, where insufficient record-keeping makes room for fraud during fundraising and failed donors' expectations as a result.
With blockchain
Blockchain-enabled ledger keeps a comprehensive and permanent record of all fundraising activities throughout the entire campaign, ensuring accurate and consistent record keeping.
Improve with Blockchain