The primary objective of supply chain businesses worldwide is to increase revenue and cut costs. Blockchain can help reach these goals by automating business processes at low risk of failure due to human error.
Blockchain-based management systems help systemize shipment routes, take control over shipping conditions, automate freight documentation handling, and act as a single point of truth for multiple supply chain participants, eliminating misunderstanding due to poor communication. Delays, stops, shipment verification, and other insights become immediately visible on a single platform.
How does it work in practice? Let's see from the real-life use cases we picked for today's article.
Five Blockchain Applications in Supply Chain
Maersk TradeLens for Container Logistics
Maersk, a global logistics corporation, has combined its effort with IBM to bring container logistics to a new level. In 2018, the companies launched TradeLens, a blockchain-based shipping solution to help Maersk's supply chain partners coordinate actions along their supply chains.
Port and terminal authorities, customs officers, cargo owners, freight forwarders, and third-party logistics can handle shipping documentation and shipment status on the platform while collecting aggregated statistics for further analysis and optimization of processes.
IBM Trust Your Supplier for Supplier Verification
Trust Your Supplier was announced in August 2019 as a collaborative project by IBM and Chainyard. The established blockchain network simplifies new supplier onboarding followed by their lifecycle check-up, this way, allowing users to identify, verify, and utilize information about suppliers they don't know yet. The platform's data is securely stored on a blockchain, meaning that it cannot be compromised or deleted.
In Trust Your Supplier, a user creates their digital passport that is checked for compliance and then can be shared with any authorized buyer. Since information cannot be unnoticeably removed, platform users are secured from the risk due to unreliable or fraudulent actors.
ZIM's Digital Bill of Lading
In 2019, the Israel-based ocean carrier company ZIM launched its pilot program to digitize the bill of lading. Serving as a receipt and a contract for the goods being shipped, the bill of lading requires much attention and can revoke shipping if fulfilled improperly.
An electronic bill of lading is created on a blockchain, meaning that its information cannot be lost or changed. The digital document includes quantity and destination, shipment details, handling and billing conditions.
ZIM's pilot was successful during container shipping from China to Canada in 2017. Back then, digital bills of lading were transferred to their receivers within less than two hours, while traditionally, such transactions might take up to several weeks.
Ernst & Young: Ops Chain for Process Management
Ops Chain by Ernst & Young was started in 2017 as a blockchain solution for supply chain enterprises that want to reform their business. Platform users can set up their networks of supply chain partners and easily manage procurement, inventory, logistics, invoicing, and account management.
In 2019, Ops Chain was used to optimize wine the marketplace supply chain by Blockchain Wine Pte. Ltd, where each bottle became traceable from its origin to end buyer, and that tangibly increased sales and customer trust.
Also, the Canadian Blood Service used Ops Chain for tracking blood transportation to accelerate donor blood delivery and escape the risk of delivery failures.
ADNOC Blockchain for Oil Supply
Abu Dhabi National Oil Company, a United Arab Emirate's oil-producing company, established a blockchain project to improve its supply chain tracking of oil from wells to customers.
ADNOC produces about 3 million barrels of oil daily, which requires a lot of supervision and precise manipulation, both at production and distribution. The program's objective is to automate manual tasks, recording transactions every step of the way.
The solution allows tracing batch documentation, checking oil condition and origin, automatically handling all distribution and logistics stages to boost transparency of the company's supply chain processes in this way.
The blockchain's autonomy helps reduce time and shipping costs and ensures extra confidentiality and protection of all data. In the future, the platform is expected to connect customers and investors, providing verifiable invariable information about oil supplies.
Aetsoft's Practical Expertise in Supply Chain
While some ideas are yet concepts, others are already proving themselves in use. We designed our own OLWay blockchain-based ecosystem that seamlessly integrates with your IoT environment and allows executing contracts, orders, and other logistics operations autonomously via smart contracts.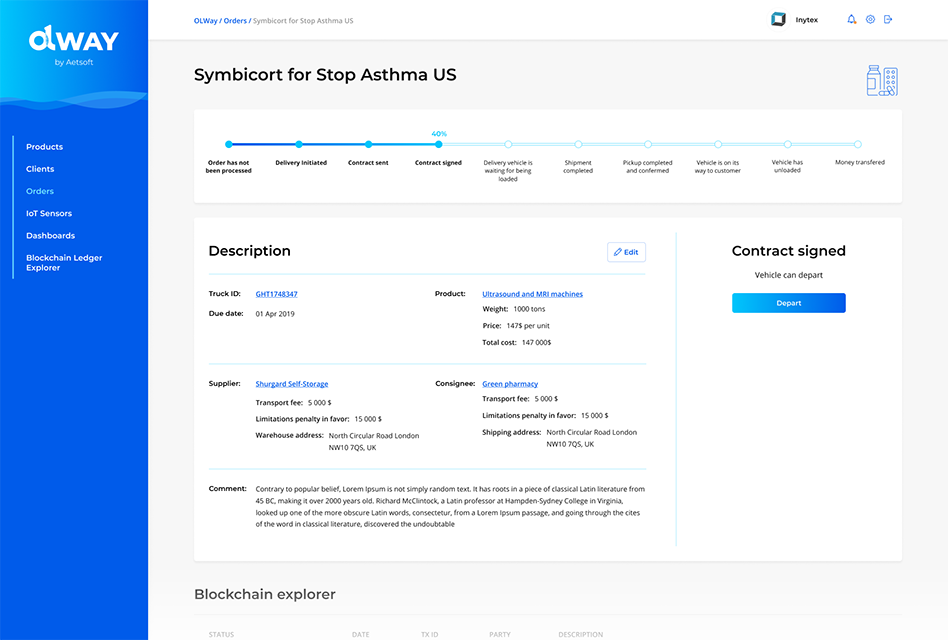 You can record each of your assets in the system and then track them across the entire transportation path. OLWay collects data, including temperature, luminosity, humidity, and others, from GPS trackers and other connected devices and stores those in a hack-proof blockchain database. Once the transportation is complete, smart contracts automatically conclude contract arrangements and distribute funds among parties.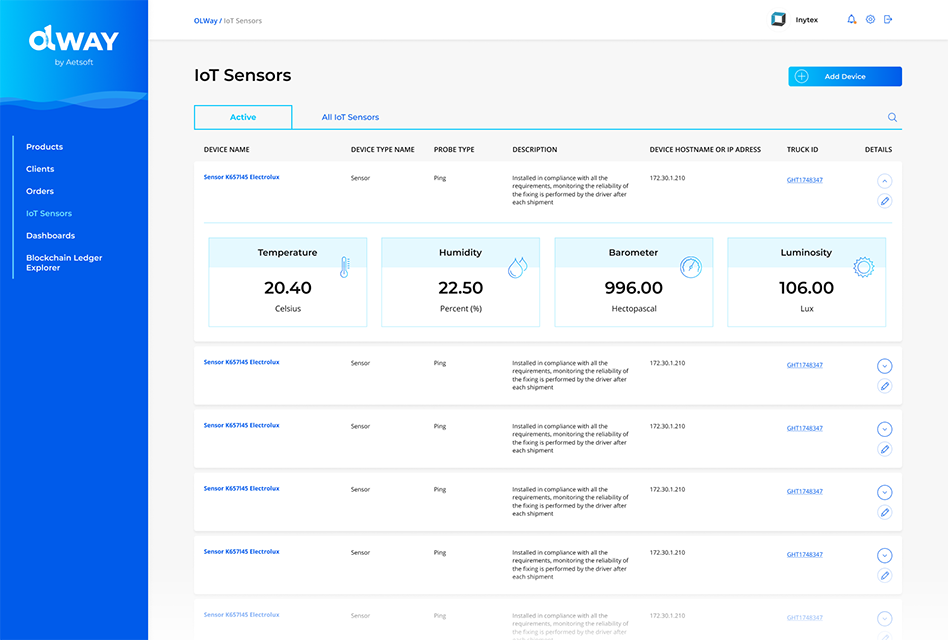 In Conclusion
The moment when the supply chain industry adopts blockchain is happening now. From the earlier cases, we can witness how industry giants utilize DLT-based tools to facilitate their management of supply chains.
Do you need a blockchain supply chain solution for your enterprise? Indeed, blockchain has a lot to offer! Contact us to discuss your future project.