Offshore Development Centers, or ODCs, become increasingly popular among businesses choosing contractors. Why? Well, there are plenty of reasons for that, and today, we will talk about these.
To put it briefly, it's mostly about the speed of delivery and low costs. Companies get a high-quality working process with prompt deliveries and transparency upon each iteration.
Let's start with the basics. We will consider the definition of Offshore Development Centers, their models (well, there are some to choose from), finishing up with the benefits.
Why Offshore Development, Exactly?
When a customer chooses an Offshore Development Center model, they order a development studio, a virtual facility of a kind since it's located remotely, typically, in a foreign country.
Offshore Development Centers are demanded in countries with a skilled workforce and comparatively low costs of living. Customers benefit from these workers by paying less than they could if they decided to hire these on the local market.
How is the ODC model substantially different from ordinary outsourcing? In the case of the ODC, a company hires a dedicated team to manage. On the other hand, companies can create ODCs independently, meaning they will need to set up a whole infrastructure from the ground up: location, workers, administration, and other assets, all leading to enormous investments.
Compared to traditional outsourcing, the ODC model is more economical. A project manager runs an offshore development team based on the client's expectations. The client, in turn, pays a fixed sum monthly.
Individual Offshore Development Centers evaluate the performed operation yearly, assessing work quality, reconsidering rates, carrying out performance reviews, not to mention budgeting and other administrative activities.
By now, you should keep in mind the following specifics of ODCs:
Dedicated team and facility in general;
Dedicated software and hardware infrastructure;
Dedicated security policy, following the established standards and best practices;
Dedicated human resourcing procedures.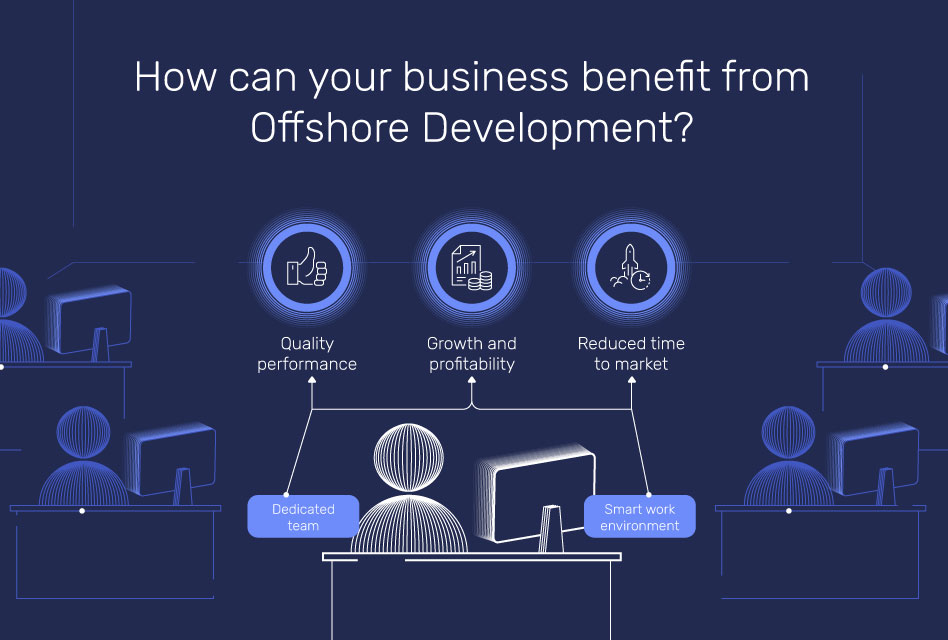 A Few More Specifics behind Offshore Development
Operational Costs
Offshore development teams can adjust in scale to the customer's current requirements without affecting the resulting budget. Plus, the overall productivity of operation can be improved thanks to such flexibility.
Workflows
The time generally spent on preparing proposals in outsourcing is reduced or eliminated totally in the ODC, so the dedicated team can focus more on delivering the value.
Learning and Culture
Offshore Development Centers work compliant with the requirements of the ODC Steering Committee. That government-backed formation makes sure that cultural mentality is maintained across the ODC team, holding inspecting sessions quarterly. The committee is elected by both the contractor and the dedicated team and consists of the senior management.
Customer vs. Contractor: Models of Offshore Development
SMEs are more likely to opt for a contractor-based Offshore Development Center model. According to that model, a contractor, or an Offshore Development Center selects a distributed team per the customer's requirements. All operations are performed on the contractor's facilities.
The model works well in a variety of tasks, including software updates, maintenance and support, integration with third-party platforms, and others.
Briefly about the model's workflow; the customer provides the contractor with a project specification, and the designated team begins preparation activities, with analytics and system design. After that, the development kicks off.
Alternatively, there is a customer ODC model, where the customer is at the helm. The model suggests that the customer's company is capable enough of running development on-premise, that's why that model is a typical choice of large enterprises. Those operating in narrow knowledge domains may opt for the customer ODC model as well to avoid continuous research and analytics from the contractor's part.
That is, the primary responsibility of the contractor here is to provide the workforce necessary for development, while the contractor's in-house team carries out research and design.
Eventually, which model to choose is up to you, yet many factors hinge on your company's size and, consequently, capacity.
Signs that the Time is Right: Benefits of Offshore Development
Salary and Infrastructure Savings
If you choose the contractor-based ODC model, you save money on facilities and equipment. Besides that, you may save these on wages for workers since they vary depending on the country. For some countries, wages differ significantly, but this is the topic for another article.
Easy Recruiting
Hiring has always been easier in outsourcing. Answering the ever-changing market demands, it provides you with the best professionals the world can offer; indeed, the geography of sourcing is not conditioned by a single country — no borders and, thus, the widest choice of specialists.
Scalable Team
Your business context may change over time, and the resources you need today may not be needed soon. Fortunately, the offshore development team handles all the hiring, flexibly selecting the right workers for ever-changing staffing needs.
Round-the-clock Servicing
Besides jet lags, time zone differences may bring you the greatest benefit — if you know how to leverage them. Arrange the operation of the distributed offshore development team in a way that will enable you to ensure 24/7 service, thus the superior efficiency of the working process.
Core Business Focus
You can delegate complex tech issues to the offshore development team that knows how to do that right and within a reasonable timeframe. This way, you will cut operational costs and distribute your time on dealing with business matters.
Summing Up
By now, you see that offshore development is a worthy alternative to traditional outsourcing. Rather than having a dedicated team you practically cannot control, you can have the team in your own office that facilitates communication, and, consequently, management issues.
Yet, setting up an Offshore Development Center of any kind is a challenge, especially if you don't have previous experience doing that. Contact Aetsoft, and we will help you overcome any hurdles standing in the way by providing you with the ready-to-operate Offshore Development Center.