How dangerous can tonsillitis be for life?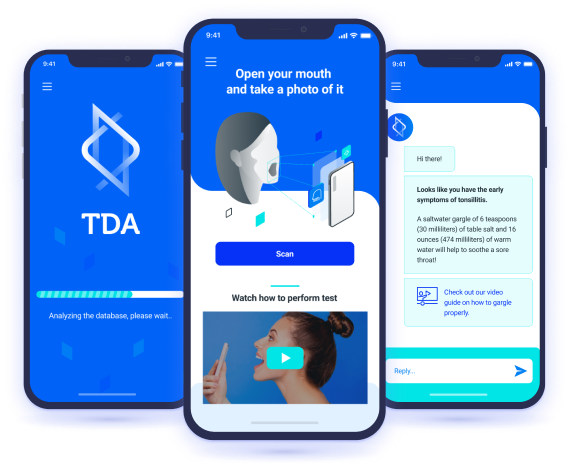 Introducing the TDA project for tonsillitis treatment
We developed Tonsillitis Detection App for citizens to take immediate care of their health by spotting the early symptoms of tonsillitis. Our mobile application processes the photos of the oral cavity that you took and gives recommendations for further treatment.
Stay alert under the COVID-19 emergency
For its symptoms, tonsillitis may become a premise of the coronavirus disease — if not treated in due time. Order TDA now to get your diagnosis without leaving home.
Get more info
Revolutionize your business with Aetsoft
Have the same requirements
for your project?
Aetsoft is ready to deliver a solution according to your specifications. If you need additional support or business advice, we'll give you our professional consultation.
Just planning to implement blockchain for
your business?
From the idea to the end product — Aetsoft accompanies you at every stage of blockchain adoption, making the entire process smooth.
Need the product? Schedule a call with us!
Shoot us an email with your product request, and we will contact you within one business day.